Back to the charity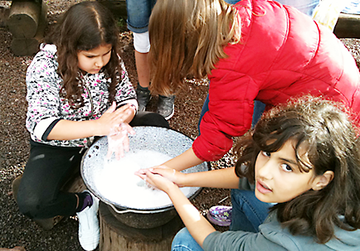 Child poverty in Mannheim? Does this exist? Many children in Mannheim suffer from poverty and for those children, it often means to end up in a blind alley. From the beginning, there is a lack of the most important things in their lives and their path of life seems to be predetermined. Aufwind fights against this situation.
With heart and reason, the social institution provides children with what is too often missing: easy, available help for basic cover, stability and support in daily life. A committed team of professional staff gives the important support to children, families and single parents in difficult situations. Currently, more than 25 children and their families are looked after at the Neckarstadt Mannheim. In the rooms of Aufwind, the children share their daily life: they have lunch together, they can do their homework with assistance and their play together.
But the work of Aufwind does not end at the basic care. Aufwind boosts the self-confidence and perspective, as in this way, children become people who master their lives successfully, who feel like a part of a community, who get tasks, who learn new things, who keep to familiar structures, who take responsibility and who grow. Aufwind offers space for all that children should experience. The special aspect is that diverse cultures grow into a community. The misery of the children often mirrors the misery of the parents. For this reason, the parents are included in the support.