Back to the charity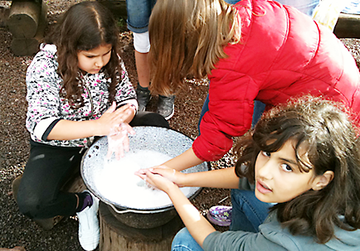 Kinderarmut in Mannheim? Gibt es das überhaupt? Leider ja. Viele Kinder in Mannheim sind davon betroffen, und für diese Kinder heißt das, schon sehr früh im Leben in einer Sackgasse zu stecken. Von klein an fehlt ihnen das Nötigste im Leben – und so ist ihr Lebensweg vorgezeichnet. Aufwind tut etwas dagegen.
Mit Herz und Verstand gibt die soziale Einrichtung Kindern das, was viel zu oft fehlt: einfache, greifbare Hilfe zur Grundsicherung, aber auch Halt und Unterstützung im täglichen Leben. Aufwind gibt Aufwind: Ein engagiertes Team von Fachleuten gibt Kindern, Familien und Alleinerziehenden in schwierigen Situationen die nötige Unterstützung. Momentan werden in der Mannheimer Neckarstadt mehr als 25 Kinder sowie deren Familien betreut. In den Räumlichkeiten von Aufwind teilen die Kinder ihren Alltag miteinander: gemeinsam zu Mittag essen, Hausaufgaben betreut erledigen und gemeinsam spielen.
Bei der Grundversorgung hört die Arbeit aber noch lange nicht auf. Aufwind fördert Selbstbewusstsein und Perspektive, denn so werden Kinder zu Menschen, die ihr Leben erfolgreich meistern, die sich als Mitglied der Gemeinschaft fühlen, die eine Aufgabe übertragen bekommen, die Neues kennenlernen, die gewohnte Strukturen einhalten, die Verantwortung übernehmen, die wachsen. Aufwind bietet Raum für all das, was Kinder erleben und erfahren sollten. Das Besondere dabei ist, dass ganz verschiedene Kulturen zu einer Gemeinschaft zusammenwachsen. Die Not der Kinder spiegelt häufig die Not der Eltern wider. Um nicht nur die Symptome zu bekämpfen, sondern an der Wurzel anzusetzen, werden auch die Eltern in die Unterstützung mit einbezogen.