Worn by a Hollywood star: Patrick Dempsey donated his shirt
Description
Patrick Dempsey is not only known as "McDreamy" from Grey's Anatomy and from numerous hollywood blockbusters, but also as a passionate car race driver. On the occasion of the Grand Prix of Austria, the US actor took place in a Porsche in Spielberg in order to take part in the star-cudded legends parade. And for all his fans, we're having a special highlight: Patrick Dempsey donated his worn shirt in order to support the little Paulina's dolphin therapy!
Check out our other unique auctions, all for a good cause!
read more
Additional details
You're bidding on a collectible from Hollywood: Patrick Dempsey's worn shirt.
Worn during the legends parade on the occasion of the GP of Austria in Spielberg
Personalized with Patrick Dempsey and the US flag on the chest
"Legends Parade 2019 Spielberg" and RedBull logo embroidered on the arm
Brand: AlphaTauri
Colour: white
The entire proceeds of the auction "Worn by a Hollywood star: Patrick Dempsey donated his shirt", without any deducted costs, will go straight to dolphin aid and will be used for little Paulina's dolphin therapy.
read more
Charity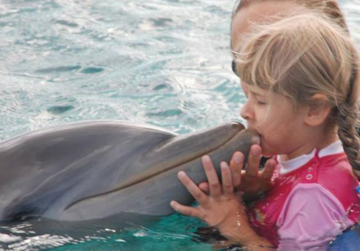 dolphin aid
Back to life
Dolphins are mystic creatures. They are intelligent, playful, attentive, protective - and the ideal therapists for many people. A dolphin therapy with dolphin aid can not only improve the life quality, the self-confidence and the motor functions of children with different diseases or disabilities, but also have a sustainable positive effect.