Back to the charity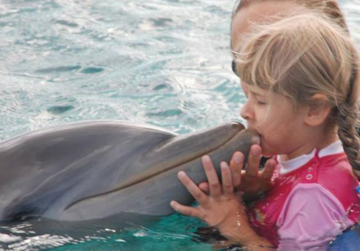 Dolphins are mystic creatures. They are intelligent, playful and move easily in their element. They are attentive and protective and defend their friends from enemies. They are the most communicative creatures, the peaceful masters of the water and the best companions of special children.
The dolphin therapy does not raise the claim to cure diseases. But research has shown that especially ill children learn up to five times more quickly and with higher intensity when working with dolphins. The unique therapy method has been developed for more than 25 years by Dr. David E. Nathanson, an American psychologist and behaviour scientist. Since then, he has helped almost 10,000 children from 55 countries with his particularly trained team.
The health progresses little patients with disabilities achieve during dolphin therapy often are the beginning of their health rehabilitation. For the parents, these steps do not only make the parents hope on a more autonomous life of their ill or disabled children, but also the security that thanks to the dolphin therapy, their children often achieve therapy capability in the classical, medical sense. Treatment centres working together with dolphin aid, are the Curacao Dolphin Therapy Center, the Island Dolphin Care in Key Largo/Florida and the Dolphin Reef in Eilat/Israel.