Trey Songz nach seinem Konzert in Berlin treffen
Description
Er ist der neue Stern am R'n'B- und Pop-Himmel: Tremaine Aldon Neverson, besser bekannt unter seinem Künstlernamen Trey Songz. Nun kommt der US-Boy mit seiner Passion, Pain & Pleasure-Tour endlich nach Europa – und für zwei Gigs auch nach Deutschland. Ihr Termin dabei: Der 17. April, wenn das Ausnahmetalent, das bereits ein "MTV unplugged" spielen durfte, Berlin beehrt. Dann erwartet Trey Songz , der mit gerade einmal 26 Jahren schon mit hochrangigen Hip-Hop-Künstlern wie Drake, Fat Joe, Lil Wayne und Nicki Minaj zusammengearbeitet hat, Sie und Ihre Begleitung nach seinem Konzert im Huxley's – zu einem exklusiven Meet & Greet.
read more
Additional details
Sie erleben etwas, das Sie nicht kaufen können: Trey Songz nach seinem Konzert in Berlin treffen: Am Sonntag, 17. April 2011, treffen Sie und Ihre Begleitung Trey Songz nach seinem Konzert in Berlin (Foto inklusive). Zwei Tickets für das Konzert im Huxley's. Beginn: 20 Uhr. Eigene Anreise. Ohne Übernachtung. Den Auktionserlös leiten wir direkt, ohne einen Cent Abzug, an das Hilfsprojekt Kinderschutzengel: PC am Krankenbett weiter.
Diese Auktion könnte Sie auch interessieren:
read more
Charity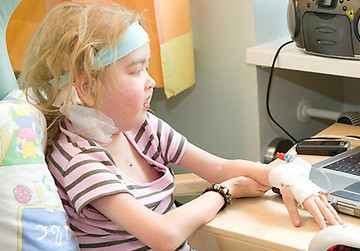 Children's Guardian Angels: computers at the bedside
Via a mouse clic from the bedside into the classroom
Sandra always was thinner than the others, often paused when speaking and instead of playing in the schoolyard, she preferred reading at the library. She even had the permission to come late instead of hurrying up in the morning. Her sick heart affected her daily rhythm.