Back to the charity
Children's Guardian Angels: computers at the bedside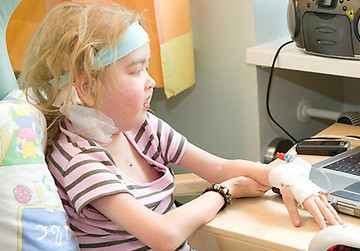 Everyone at school knew that one day, it could happen: Sandra always was thinner than the others, often paused when speaking and instead of playing in the schoolyard, she preferred reading at the library. She even had the permission to come late instead of hurrying up in the morning. Her sick heart affected her daily rhythm. However, December 4th, 2008, was a shock for the 25 pupils at the Rheinhardswald primary school in Kreuzberg.
They are all already sitting on their chairs in the classrooms when Sandra's mother brings her daughter to school. This morning, the girl is crying. The teacher just wants to ask what's happening when Sandra loses consciousness before the faces of her friends. Immediately, an ambulance brings Sandra to the Deutsche Herzzentrum Berlin (DHZB, German Cardiac Centre in Berlin), where the doctors already know her. The 10-year-old suffers from a rare form of a myocardial disease, leading to a dysfunction of the pump fuction which may make, in the worst case, a transplantation necessary. This case occured to Sandra.
While she was waiting for a donor organ, she only had one sorrow: do not stay down at school. But how could she make up the lessons? Via a mouse clic from the bedside to the classroom: the association Kinderschutzengel had the brilliant idea. Thanks to webcams and a laptop funded by donations, Sandra was brought back to her classroom by video conference and she could take part in the lessons.
With Sandra, this project was realised for the first time at the Deutsches Herzzentrum Berlin - and since then, it is very successful there and at the clinic for children and youths Lindenhof. Not only the transmission of knowledge is important, but also the social contacts. The connection of the ill children to their schoolmates does not only bring relief to the daily life at the hospital, but also makes the later reintegration into the class community easier. Additionally, attending class while being at the hospital can break the isolation due to an illness. So it was for Sandra, who is doing really well by now.
All proceeds from the following auction go 100% to this Charity project: