Von Bill Clinton: Graviertes Lederarmband "65 WJC 42"
Description
Ein Accessoire, das Sie mit keinem Geringeren als Bill Clinton verbindet: Der 42. Präsident der Vereinigten Staaten versteigert hier zugunsten seiner HIV/AIDS-Initiative ein Lederarmband mit silberfarbener Platte. Den Hinweis auf Clinton finden Sie in der Gravur 65 (Clintons Alter im Jahr 2011) WJC (William J. Clinton) 42 (Präsidentschaft). Ergreifen Sie diese einmalige Chance und sichern Sie sich ein Armband, das keiner hat.
Entdecken Sie unsere weiteren einzigartigen Auktionen für den guten Zweck!
read more
Additional details
Sie bieten für ein echtes Schmuckstück: Lederarmband mit Gravur 65 WJC 42. WJC sind die Initialen für Clintons vollen Namen William Jefferson Clinton, die 65 steht für Clintons Alter in 2011, die 42 für seine Präsidentschaft. Die Platte ist silberfarben. Aufbewahrt ist das Lederarmband (Länge: rund 24 cm) in einer Flechtbox. Den Erlös der Auktion "Von Bill Clinton: Graviertes Lederarmband "65 WJC 42" leiten wir direkt, ohne einen Cent Abzug, an die Clinton HIV/Aids-Initiative weiter.
read more
Charity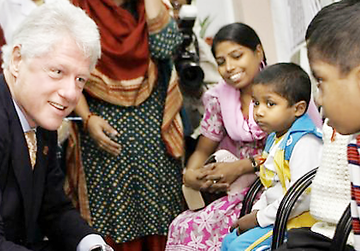 CHAI: Clinton HIV/Aids Initiative
Bill Clinton plays a significant role in the battle against AIDS with his foundation
Worldwide, 33.4 million people live with HIV or AIDS. Every day, 7,400 people are newly infected with the HI virus. HIV/Aids is a worldwide pandemia and subverts social and economic aims in developing countries where more than 90 per cent of the population live with HIV or AIDS.