Nibelungen-Festspiele: Gast bei Premiere
Description
Die Wormser Nibelungen-Festspiele feiern in diesem Jahr ihren zehnten Geburtstag. Sie können exklusiv mitfeiern. Denn wir haben zwei Tickets für die Premiere "Die Geschichte des Joseph Süß Oppenheimer, genannt Jud Süß" am 25. Juni reserviert. Zum Jubiläum verspricht Intendant Dieter Wedel eine spektakuläre Inszenierung mit einem brillanten Ensemble. Genießen Sie die Uraufführung mit anschließender Premierenfeier.
read more
Additional details
Sie erleben etwas, das Sie nicht kaufen können: Nibelungen-Festspiele: Gast bei Premiere: Am Samstag, 25. Juni 2011, sind Sie und Ihre Begleitung Gast bei der Uraufführung "Die Geschichte des Joseph Süß Oppenheimer, genannt Jud Süß" der Nibelungen-Festspiele Worms. Für die Premiere (mit hohem Promifaktor) gibt es keine Karten zu kaufen. Anschließend Zugang zur offiziellen Feier. 19.30 Uhr: Parköffnung. 20.30 Uhr: Einlass. 21 Uhr: Premiere. 0 Uhr: Beginn der Premierenfeier im Heylshofpark mit Gala-Dinner, Musik und Tanz. Eigene Anreise. Ohne Übernachtung. Den Auktionserlös leiten wir direkt, ohne einen Cent Abzug, an das Hilfsprojekt Aufwind - Mannheim weiter.
read more
Charity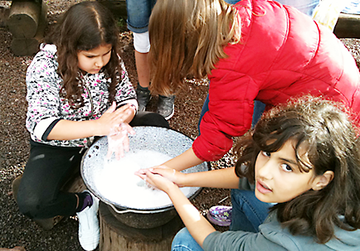 Aufwind – Mannheim
Child poverty in Mannheim – Aufwind helps
Child poverty in Mannheim? Does this exist? Many children in Mannheim suffer from poverty and for those children, it often means to end up in a blind alley. From the beginning, there is a lack of the most important things in their lives and their path of life seems to be predetermined. Aufwind fights against this situation.