Back to the charity
UNICEF – Schools for Africa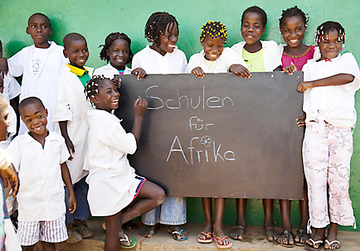 Every child has a right on education. Though, in African countries south of the Sahara, every third child does not attend school. Many families are too poor to pay the school material for their children. Especially in the rural areas, schools are often crowded, poorly equipped or too far away. Qualified teachers are missing and the AIDS epidemic tightens the situation.
Still, 101 millions of children in the world do not attend school, half of them live in Africa. The average gross enrolment ratio south of the Sahara increased. However, only two thirds of the children enroled to school reach the last class of primary school.
But education is the basic premise for a better life: children attending school later have better perspectives for jobs. They learn to have their own opinion and to make decisions. And they know how to stay healthy and how to protect themselves for example from HIV and AIDS.
For this reason, UNICEF, the Nelson Mandela Foundation and the Peter Krämer Foundation have started the campaign "Schools for Africa". The aim is to provide a good basic school education for children in eleven African countries. Here, UNICEF supports the construction of additional classrooms, provides school material and instructs teachers.