#SkyTrikotChallenge: Das getragene WM-Trikot von Bastian Schweinsteiger
Description
Im Rahmen der #SkyTrikotChallenge ruft Sky prominente Sportler auf, ein besonderes Trikot oder Sammlerstück für den großen Sky Charity Advent zur Verfügung zu stellen. Bastian Schweinsteiger spendet für diesen Zweck sein getragenes und signiertes WM-Trikot aus dem Viertelfinal-Spiel gegen Frankreich. Bieten Sie mit und verschenken Sie diese besondere Trikot-Rarität zu Weihnachten!
Entdecken Sie bei uns auch weitere ausgefallene Geschenke für den guten Zweck!
read more
Additional details
Sie bieten für ein echtes Fußballsammlerstück: Im Rahmen der #SkyTrikotChallenge spendet Bastian Schweinsteiger sein getragenes WM-Trikot aus der Viertelfinal-Partie gegen Frankreich. Mit signatur. Marke: adidas. Farbe: weiß mit rotem Bruststreifen. Diese Versteigerung ist Bestandteil unserer Sky Charity-Weihnachtsauktionen. Den Auktionserlös leiten wir direkt an die Sky Stiftung weiter. Sport und Bewegung sind wichtige Bausteine für eine gesunde geistige und kognitive Entwicklung bei Kindern und Jugendlichen. Die Sky Stiftung setzt sich dafür ein dass junge Menschen aus allen sozialen Schichten die Möglichkeit haben Sport zu treiben, denn "Jedes Kind hat das Recht auf Bewegung".
read more
Charity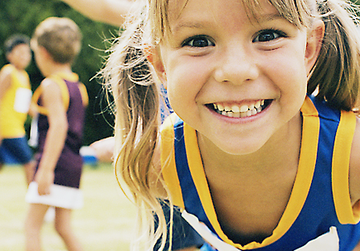 Sky Foundation: We make Children fit for Life
We make children fit for life
Not only in developing countries, but also in Germany, many children live in poverty. This poverty is displayed by a lack of material property or a lack of a balanced diet, but also a lack of exercise. Often, children in socially deprived families or children with disabilities are not having any access to sports offers. Therefore, Sky supports projects enabling all children to take part in sports.