The Matchday Medal from the Bundesliga Match between 1. FC Köln and FC Schalke 04
Description
1. FC Köln has successfully started the new Bundesliga season! Bid here on the 1st matchday medal of the Köln team from the 2022/23 season to the 3-1 home win against FC Schalke 04. This medal cannot be purchased and it is a real rarity, which is only given to the respective club representatives of the visiting club as a gift. Place your bid now and get this collector's item for a good cause!
Discover more unique auctions for the good cause!
read more
Additional details
You are bidding on a football collector's item: the matchday medal of 1. FC Köln from the 1st matchday.
Session motto: "Ov krüzz oder quer"
Hanging on a red and white ribbon
Application: Logo 1.FC Köln/Schalke 04
The proceeds of this auction will be forwarded directly, without any deduction of costs, to the 1. FC Köln Foundation.
read more
Charity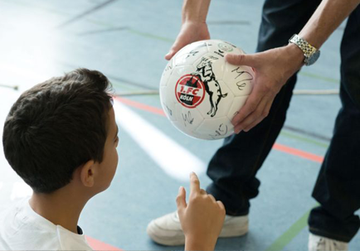 1. FC Köln Foundation
Projects helping to catch up social disadvantages
The foundation of the football club 1. FC Köln focusses on the four main fields education, fairplay, health and tolerance. It supports projects for children and youths in the Rhine river area that help to catch up social disadvantages.