Lebensgroßes BAMBI – signiert von Preisträgern & Laudatoren
Description
Zum ersten Mal war die STEIGENBERGER HOTEL GROUP offizieller Hotelpartner der BAMBI-Verleihung, dem wichtigsten deutschen Medienpreis. Das STEIGENBERGER PARKHOTEL an der Königsallee in Düsseldorf beherbergte Preisträger, Laudatoren und Gäste aus aller Welt. Alle wurden gebeten, im Hotel ein lebensgroßes goldenes BAMBI zu signieren. Dieses BAMBI können Sie hier nun zugunsten von TRIBUTE TO BAMBI – Hilfe für Kinder in Not ersteigern. Bei dem goldenen Reh handelt sich um ein echtes Unikat mit den Unterschriften von Stars wie Salma Hayek, CRO, Felix Baumgartner, Sara Nuru, Kai Pflaume und Sylvie van der Vaart.
read more
Additional details
Sie bieten für etwas, das Sie nicht kaufen können: Ein lebensgroßes BAMBI signiert von Promis. Das goldene Rehkitz ist ein absolutes Unikat und wurde von den Gästen der BAMBI-Verleihung während ihres Aufenthaltes im Steigenberger Parkhotel Düsseldorf unterschrieben. Folgende Prominente haben sich auf dem BAMBI verewigt: Steven Amstrup, Peyman Amin, Barbara Auer, Kodimey Awokou, Felix Baumgartner, Julius Brink, Kirsten Bruhn, Detlev Buck, Hubert Burda, Fabian Busch, Nina Eichinger, Martina Gedeck, Lena Gercke, Martina Hill, Alexander Huber, Thomas Huber, Johannes B. Kerner, Andreas Kieling, Herbert Knaup, Thomas Kretschmann, Alina Levshin, Jan Josef Liefers, Adnan Maral, Elyas M'Barek, Claudia Michelsen, Richy Müller, Alexandra Neldel, Sara Nuru, Caroline Peters, Kai Pflaume, Josefine Preuß, Jonas Reckermann, Palina Rojinski, Götz Schubert, Anna Stieblich, Rosalie Thomass, Ulrich Tukur, Nadja Uhl, Kostja Ullmann, Sebastian Urzendowsky, Sylvie van der Vaart, CRO und Mirjam Weichselbraun. Diese Versteigerung ist Bestandteil unseres TRIBUTE TO BAMBI-Specials. Den Auktionserlös leiten wir daher direkt, ohne einen Cent Abzug, an die TRIBUTE TO BAMBI-Stiftung weiter, die damit hilfsbedürftige Kinder und Jugendliche unterstützt.
read more
Charity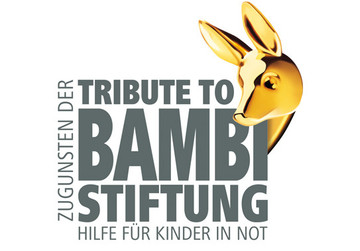 TRIBUTE TO BAMBI Foundation: Help for children in need
An initiative of Hubert Burda Media
Material poverty often goes along with emotional poverty. But even in well-to-do conditions, children and youths are often left on their own devices. In the worst case, they get victims of phyical violence or sexual abuse. The TRIBUTE TO BAMBI Foundation wants to help here.