Thomas Müllers Matchworn-Schuhe von der Nationalmannschaft
Description
Es müllert wieder – und zwar gewaltig. In dieser Saison besticht Thomas Müller wieder mit seinem herausragenden Torinstinkt, der den FC Bayern-Profi bei der Fußball-Weltmeisterschaft 2010 in Südafrika zum Torschützen machte. Kein Wunder, dass Bundestrainer Löw stetig auf den Jungstar setzt. Von der Nationalmannschaft stellt uns Thomas Müller etwas ganz Besonderes zur Verfügung: Er stiftet seine signierten Schuhe, die er bei einem Länderspiel trug. Die markanten Ledertreter der Marke Adidas verhelfen vielleicht auch bald Ihnen zum Titel des Torschützenkönigs!
Entdecken Sie die weiteren Highlight-Auktionen für den guten Zweck!
read more
Additional details
Sie bieten für etwas, das Sie nicht kaufen können: Das Matchworn-Schuhe von Thomas Müller. Der Mittelfeldspieler trug die Schuhe bei einem Länderspiel der Deutschen Fußball-Nationalmannschaft. Marke: Adidas. Modell: Predator. Farbe: Schwarz/Rot. Größe: 44. Die Schuhe hat Thomas Müller persönlich signiert. Auf der Schuhaußenseite ist zusätzlich die Aufschrift "Mia san dahoam" aufgedruckt. Diese Versteigerung ist Bestandteil unserer YoungWings Charity-Weihnachtsauktionen powered by Thomas Müller & friends. Den Auktionserlös leiten wir direkt, ohne einen Cent Abzug, an die Nicolaidis Stiftung weiter, zugunsten des Projektes YoungWings, das trauernde & traumatisierte Kinder und Jugendliche unterstützt.
read more
Charity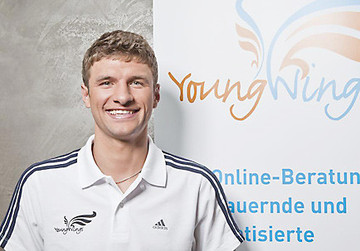 YoungWings
YoungWings – Aid network for grieving and traumatised children and adolecents that have experienced a loss
The online counselling organization YoungWings is there for children that have lost a close family member. They are there to give empathetic advice to help the grieving cope with the loss.