Treffsichere Schuhe: Thomas Müllers Schuhe aus dem HSV-Spiel
Description
Beim Topspiel am 10. Spieltag der Fußball-Bundesliga empfing der Hamburger SV den FC Bayern. Vor 57.000 Zuschauern erlebten die Hanseaten einen ungefährdeten Sieg der Münchner und verloren klar mit 0:3. Zu den Torschützen zählte auch Thomas Müller, der zum zwischenzeitlichen 0:2 traf. Etwas ganz Besonderes aus dieser Partie versteigern wir nun hier: Thomas Müller trennt sich für unsere Auktion von seinen Schuhen, die er während des Nord-Süd-Gipfels auf dem Platz trug und mit denen er vor dem Tor erfolgreich war. Sichern Sie sich ein einmaliges Andenken an das Spitzenspiel! Zusätzlich hat Müller das Paar Schuhe persönlich signiert.
Entdecken Sie die weiteren Highlight-Auktionen für den guten Zweck!
read more
Additional details
Sie bieten für etwas, das Sie nicht kaufen können: Die Matchworn-Schuhe von Thomas Müller. Der Mittelfeldspieler trug die Fußballschuhe der Marke Adidas während der Partie gegen Hamburg in der Hansestadt am 3. November 2012. Müller erzielte beim ungefährdeten 3:0-Sieg das zwischenzeitliche 2:0. Das Besondere an den Schuhen sind die kleinen YoungWings-Aufdrucke an den Außenseiten. Außerdem hat Thomas Müller seine Schuhe signiert. Modell: Predator. Farbe: Schwarz. Größe: 44. Diese Versteigerung ist Bestandteil unserer YoungWings Charity-Weihnachtsauktionen powered by Thomas Müller & friends. Den Auktionserlös leiten wir direkt, ohne einen Cent Abzug, an die Nicolaidis Stiftung weiter, zugunsten des Projektes YoungWings, das trauernde & traumatisierte Kinder und Jugendliche unterstützt.
read more
Charity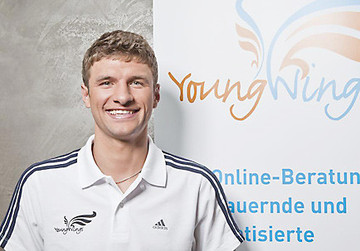 YoungWings
YoungWings – Aid network for grieving and traumatised children and adolecents that have experienced a loss
The online counselling organization YoungWings is there for children that have lost a close family member. They are there to give empathetic advice to help the grieving cope with the loss.