Meet & Greet und SWR3 Live-Lyrix mit Alexandra Kamp
Description
Handy zwischen Schulter und Ohr, das Smartphone in der Hand, Netbook auf den Knien: "Hast Du schon gehört? Nee, oder?!" Alexandra Kamp ist Adele, mimt ihren Hit "Rumor has it", streut hektisch über alle Kanäle die wildesten Gerüchte. Nur eines von so vielen Aha-Erlebnissen für die Zuschauer der SWR3 Live-Lyrix – darum geht es also in diesem Song! Die Hits aus dem Radio auf der Bühne begreifbar machen, das will das Team der SWR3 Live-Lyrix: Als Katy Perry in "Last Friday Night" zerreißt Schauspielerin Alexandra Kamp mit einem Ruck ihre Nylons: "Oh Gott, da liegt ein Fremder in meinem Bett! Und ich stinke wie eine Minibar...". Bühnenpartner Ronald Spiess entschwebt der Bodenstation im weißen Astronautenanzug: "Major Tom, können Sie mich hören, Major Tom?". Zurück auf der Erde schlüpfen die Darsteller in die Haut von Shakira und Francis Cabrel, jagen den Zuschauern mit ihrer Performance von "Je l'aime a mourir" Gänsehaut über den Rücken. Nonchalant führt Ben Streubel, SWR3-Live-Lyrix-Mann und SWR3-Moderator der Nachtsendung "Luna" durch einen Abend voller Highlights, den Sie ganz besonders genießen können: Ersteigern Sie zwei Tickets für die SWR3 Live-Lyrix und lernen Sie Alexandra Kamp bei einem Meet & Greet persönlich kennen.
Entdecken Sie die weiteren Highlight-Auktionen für den guten Zweck!
read more
Additional details
Sie bieten für ganz besondere Musik-Momente: Erleben Sie zusammen mit Ihrer Begleitung die einzigartige Atmosphäre der SWR3 Live-Lyrix und lernen Sie Schauspielerin Alexandra Kamp bei einem Meet & Greet persönlich kennen. Die SWR3 Live-Lyrix, das ist Musik und Schauspiel zum Fühlen und Anschauen. Lehnen Sie sich zurück, schließen Sie die Augen und lauschen Sie den Schauspielern und der Originalmusik. Termin und Ort in Absprache mit Alexandra Kamp. Eigene Anreise. Ohne Übernachtung. Diese Versteigerung ist Bestandteil unserer YoungWings Charity-Weihnachtsauktionen powered by Thomas Müller & friends. Den Auktionserlös leiten wir direkt, ohne einen Cent Abzug, an die Nicolaidis Stiftung weiter, zugunsten des Projektes YoungWings, das trauernde & traumatisierte Kinder und Jugendliche unterstützt.
read more
Charity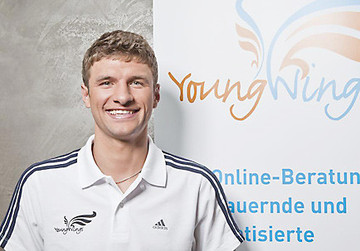 YoungWings
YoungWings – Aid network for grieving and traumatised children and adolecents that have experienced a loss
The online counselling organization YoungWings is there for children that have lost a close family member. They are there to give empathetic advice to help the grieving cope with the loss.