Dschungelcamp 2013: Koala aus der letzten Sendung
Description
Auch 2013 wagen sich wieder elf abenteuerlustige Prominente in das legendäre Dschungelcamp. Und auch dieses Mal sind wir wieder mit dabei: Sichern Sie sich in unserem Dschungelcamp-Special einmalige Raritäten aus dem RTL-Erfolgsformat "Ich bin ein Star – Holt mich hier raus"! Ersteigern Sie hier den lachenden Stoff-Koala, der die Moderatoren Sonja Zietlow und Daniel Hartwich während des gesamten Dschungelcamps begleitete.
Entdecken Sie unsere weiteren Auktionen für den guten Zweck!
Additional details
Sie bieten für etwas, das Sie nicht kaufen können: Den original Stoff-Koala aus dem Dschungelcamp. Das flauschige Plüschtier begleitete das Moderatorenduo Sonja Zietlow und Daniel Hartwich durch die gesamte siebte Staffel der RTL-Erfolgsshow "Ich bin ein Star – Holt mich hier raus". Der Koala ist grau und ganz flauschig. Er hat einen Sensor am Bauch und reagiert auf
Licht. Daraufhin fängt er an zu lachen und sich zu schütteln. Er kann sitzen sowie auch auf dem Rücken liegen. In beiden Positionen wackelt er und gibt lachend Geräusche von sich. Bitte beachten Sie, dass der Artikel erst im März versendet werden kann. Diese Versteigerung ist Bestandteil unseres Dschungelcamp-Specials. Alle daraus erzielten Erlöse leiten wir direkt, ohne einen Cent Abzug, an den Verein Beschützerinstinkte e.V. weiter.
Charity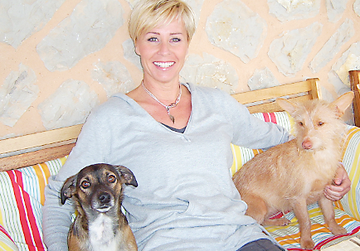 Dogs as medicine: Beschützerinstinkte e.V.
Beschützerinstinkte e.V. improves the relation between people and dogs
Dogs never stop loving. Dogs always have time. They give the feeling to be needed. Dogs comfort and understand. They break up with the vicious circle of loneliness and sadness. For a dog, it is not important if someone is poor or rich, sick or disabled.