Triumphfahrt: Ein signiertes Foto von Tony Martin bei der WM
Description
Eine wahre Triumphfahrt, festgehalten mit dieser Fotografie: Das Bild zeigt Tony Martin bei seiner Titelverteidigung im Einzelzeitfahren, unmittelbar nach dem letzten, alles entscheidenden Anstieg, dem Cauberg, kurz vor dem Ziel. In einem Herzschlagfinale siegte Tony Martin mit fünf Sekunden Vorsprung auf der 44,6 Kilometer langen Strecke und wurde nach 2011 erneut Weltmeister im Einzelzeitfahren. Der Wiesbadener Sportfotograf Ulrich Scherbaum schoss das Foto bei der diesjährigen Radweltmeisterschaft am 19.09.2012 in Limburg in den Niederlanden. Der zweifache Weltmeister Tony Martin signierte das Andenken und stellt es zugunsten des Kinderhospizes Bärenherz nun zur Verfügung. Sichern Sie sich ein Stück Radsportgeschichte!
read more
Additional details
Sie bieten für etwas, das Sie nicht kaufen können: Eine Fotografie von der UCI Radweltmeisterschaft 2012 in Limburg, Niederlande. Das Bild zeigt Tony Martin beim Einzelzeitfahren auf dem Weg zum Ziel. Tony Martin gewann das Rennen gegen die Uhr und wurde nach 2011 erneut Zeitfahrweltmeister. Der Sportfotograf Ulrich Scherbaum hielt diesen Moment der Triumphfahrt Martins fest. Das Bild zeigt die ganze Dynamik, Kraft und Entschlossenheit des Profiradfahrers. Auf Acryl gedruckt, hat Tony Martin die Fotografie persönlich signiert. Eine Befestigungsmöglichkeit mit 20mm Abstand gibt die Möglichkeit das Bild mit einer Beleuchtung zu versehen, es so zu illuminieren und in einer perfekten Optik erstrahlen zu lassen. Maße: ca. 45cm x 30 cm. Den Erlös der Auktion "Triumphfahrt: Ein signiertes Foto von Tony Martin bei der WM" leiten wir direkt, ohne einen Cent Abzug, an das Kinderhospiz Bärenherz weiter.
read more
Charity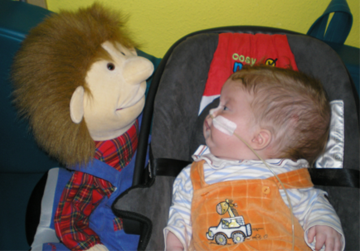 The children's hospice Bärenherz in Wiesbaden
The children's hospice Bärenherz in Wiesbaden
The shattering diagnosis "terminally ill", the phrases "short life expectancy" or "there are no more drugs for cure" attac families abruptly and with cruelty. The children's hospice Bärenherz tries to accompany concerned families and children as good as possible.