dolphin aid e.V.
The effectiveness of dolphin therapies has been clearly shown by an independent, European scientific study in 2003. The scientific results now show what children and parents already knew: dolphin therapy helps! Since 1995, dolphin aid e.V. made it its task to support children with disabilities and to make possible a therapy with sea dwellers. Other aims of dolphin aid are the promotion of research and the acknowledgement of this therapy method in German health care and thus the assumption of costs by the health insurances. So far, the association has helped numerous children to significant and provable progresses in their development.
Das Projekt der dolphin aid e.V.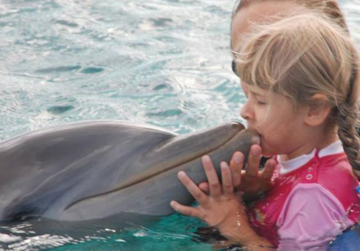 dolphin aid
Back to life
Dolphins are mystic creatures. They are intelligent, playful, attentive, protective - and the ideal therapists for many people. A dolphin therapy with dolphin aid can not only improve the life quality, the self-confidence and the motor functions of children with different diseases or disabilities, but also have a sustainable positive effect.