Back to the charity
Stiftung Deutsche Sporthilfe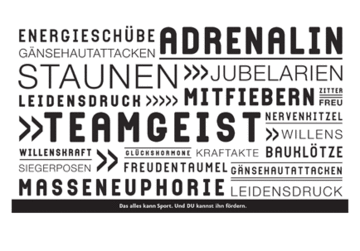 Currently, about 3,800 successful and promising budding athletes and sport stars from more than 50 sports are supported by the Deutsche Sporthilfe, a private initiative. 90 per cent of all German medals won in European championships or world championships were won by supported athletes - 230 medals in Olympic Games and 320 in the Paralympics.
For the boost, up to € 12.5 millions are used. This amount is raised with the help of important business partners, donations, events, proceeds from the "GlücksSpirale" lottery and sports stamps. National supporters are for example Deutsche Lufthansa, Mercedes-Benz, Deutsche Bank, Deutsche Telekom and Deutsche Post.
In almost five decades of activity for the top sports, the Sporthilfe developped effective booster concepts for its athletes. With this support, the athletes have the best chances to pass competitions of modern top sports successfully and to unite top sports and education - an essential task for a value orientated sports boosting that accompanies athletes for several ears and even after their active career.