Back to the charity
St. Michael Children's Home in Fuerth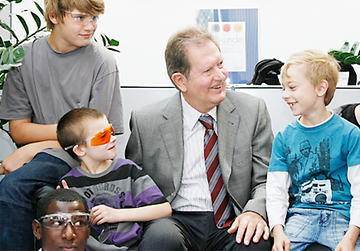 For more than 30 years, the Rainer Winter Foundation from Fürth supports deprived and ill children worldwide financially. Particularly, projects in Germany and especially in the surroundings of Nuremberg and Fuerth are close to the foundation's and its founder's heart, like for example the St. Michael Children's Home in Fuerth.
There, only a part of the material costs for the 50 children looked after are funded by public funds, for everything else, doantions are needed. This may be a small birthday or Christmas gift, a sports club fee or fees for music lessons, sport shoes, additional clothes or the participation in a trip. Especially such group events are important therapy measures for the socially deprived children.
The Rainer Winter Foundation raises funds for the St. Michael Children's Home. The aim is to contribute to the running costs, firstly in order to provide them better leisure activities and secondly in order to ensure a life similar to the life of their schoolmates.
All proceeds from the following auction go 100% to this Charity project: