Back to the charity
Lukas Podolski Foundation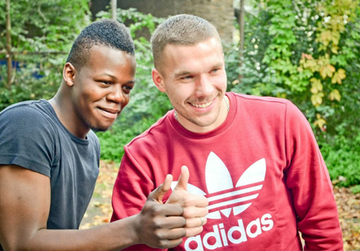 Lukas Podolski says about his foundation:
"How the own life will be is dependent from many things: family and friends, the own will and initiative, the support from others, luck, naturally, and if you stay healthy. But again and again, it's about chances. Chances you get and chances you take. As is known, my life has made a good progress. But many do not reach this. How can you take a chance if you do not get one? Football and the luck of a professional career offered me a privileged life, but I will not forget where I am coming from. The wish to give something back is big - and I want to do this with the Lukas Podolski Foundation. Especially, I would like to give a perspective to socially deprived children and youths. The chances on a good life are not equally distributed, depending on the country and the social stratum you are born. This is not just and I battle against it. I want to use myself and my prominence to attract the attention on this subject. My foundation offers the all who want to go this way with me the possibility to support our work and projects. I guarantee that all donations are used to 100% for the work of my foundation and thus in the support of projects demonstrably supporting socially deprived children and youths to find their way into society with the help of sports and education. I am happy about everyone who joins us. There is still a lot to do - help with us!
Your Lukas Podolski"
The foundation's aims:
The Lukas Podolski Foundations wants to:
give a perspective to socially deprived children and youths, from the offer of good leasure activities up to the preparation of vocational life
fight children's poverty
boost integration and international understanding
boost inclusion
use sports as a measure to achieve these goals.
The current geographical focus is in Germany and Poland. In the medium term, the Lukas Podolski Foundation wants to initiate its own projects with partners.
All proceeds from the following auction go 100% to this Charity project: