Back to the charity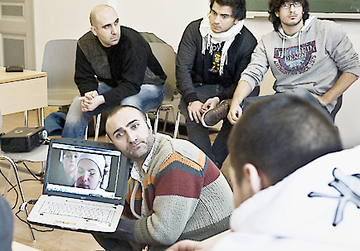 A young man is sent out by the patriarch to get home his sister. An uncle is shocked because of his unmarried niece. A son does not get the permission to marry the woman he loves. These are daily scenes from so-called cultures of honour - controversial daily scenes marked by violence and suppression justified culturally and traditionally. In the worst case, these conflicts end with cruel honour killings.
In 2007, the association Strohhalm e.V. in Berlin started its project HEROES. The aim was and is to work with young men (from the age of 17 to 23) with a migration background and with the will to take responsibility against physical and mental violance and for the equality of men and women. Or in short: those who want to change something in daily life and society.
In a first step, the social workers talk with interested youths from these cultures of honours about topics like human rights, the position of women and family honour, tolerance and respect. Then, the young men get trained to role models, the HEROES. In a next step, they visit schools and youth centres in inner cities, they give lectures and lead discussions. The workshops are based on the thought of peer education: when a topic is difficult, youths learn better when they are teached by peers sharing their cultural background.
The next aim of HEROES is a network across Germany. The first district office is already existing in Duisburg, and others cities shall follow. The World Childhood Foundation supports such projects boosting for children and youths affected by abuse and violence. In 2007, the World Childhood Foundation helped with the initial financing of HEROES and is boosting it since then.
All proceeds from the following auction go 100% to this Charity project: