Dreamday 2020: Ersteigern Sie ein kulinarisches Geschenkpaket aus 22 biologisch-biodynamischen Toskana-Spezialitäten der Fattoria La Vialla
Description
#KrebsmachtkeinePause und daher gibt es in diesem Jahr statt dem dreamball den großen, virtuellen "dreamday" von DKMS LIFE. Ziel ist es, trotz der Corona-Krise Spenden für das look good feel better Patientenprogramm mit dem Beauty-Workshop für junge Krebspatientinnen zu sammeln. Und auch wir sind dabei und versteigern ganz besondere Pakete: So haben Sie hier die Chance auf ein kulinarisches Paket mit 24 ausgewählten, selbstproduzierten Erzeugnissen der Fattoria La Vialla direkt aus der Toskana. Holen Sie sich die echte Toskana nach Hause und sichern Sie sich unter anderem erlesene und mehrfach international prämierte Weine, traditionelle Pasta-Sorten, leckere Saucen und sogar ein Rezeptbuch. Naturbelassene, biologisch biodynamische und demeter-zertifizierte Köstlichkeiten aus dem familiengeführten Bauernhof in der Toskana, wo vom Anbau bis zum Versand alles selbst gemacht wird, und Nachhaltigkeit an erster Stelle steht – machen Sie mit und schenken Sie krebskranken Frauen neuen Mut!
Entdecken Sie bei uns auch weitere einzigartige Auktionen für den guten Zweck!
read more
Additional details
Sie bieten auf etwas ganz Besonderes: Ein kulinarisches Paket mit 22 Toskana-Spezialitäten in einer zweistöckigen Schachtel.
1 Fl. Barriccato 2017 (ungefilterter roter Barriquewein, 750 ml)
1 Fl. Casa Conforto Chianti Riserva 2016 D.O.C.G. (750 ml)
1 Fl. Vernaccia di San Gimignano Riserva 2018 D.O.C.G. (Weißwein, 750 ml)
1 Fl. Ca' dell'Oro 2019 V.S.Q. (Rosé-Sekt Brut, 750 ml)
1 Fl. Vin Santo del Chianti 2016 D.O.C. (toskanischer Dessertwein, 375 ml)
1 stapelbarer Glaswürfel Olivenöl Extravergine (ungefiltert, 100 ml)
1 stapelbarer Glaswürfel Aceto Balsamico di Modena I.G.P. (ungefiltert, 100 ml)
1 stapelbarer Glaswürfel Balsamico Bianco (ungefiltert, 100 ml)
1 Micro-Pecorino (Schafskäse, mehr als 4 Monate gereift, ca. 330 g)
1 Micro-Pecorino mit Pfefferkörnern (mehr als 4 Monate gereift, ca. 330 g)
1 Kette mit 5 toskanischen Fenchelwürsten (mehr als 35 Tage gereift, mind. 250 g)
1 Gl. Carciofini Trifolati (eingelegte Artischocken mit Kräutern, 135 g)
1 Gl. Giardiniera mit Balsamico Bianco (knackiges Gartengemüse, 550 g)
1 Säckch. Spaghetti (500 g)
1 Säckch. Fusilli (500 g)
1 Säckch. Pappardelle all'uovo (breite Eierbandnudeln, 250 g)
1 Gl. Sugo Bombolino (pikante Kirschtomatensoße, 280 g)
1 Gl. Basilikum-Pesto (180 g)
1 Gl. Sugo di Cinghiale (Wildschweinsoße, 180 g)
1 Säckch. Cantucci (toskanische Mandelplätzchen, mind. 115 g)
1 Säckch. Viallini (Plätzchen mit Pinienkernen, Rosinen und Walnüssen, mind. 85 g)
1 Säckch. Schokoladentrüffel (mind. 70 g)
Den Erlös der Auktion "Dreamday 2020: Ersteigern Sie ein kulinarisches Geschenkpaket aus 22 Spezialitäten der Fattoria La Vialla" leiten wir direkt, ohne Abzug von Kosten, an DKMS LIFE weiter.
read more
Charity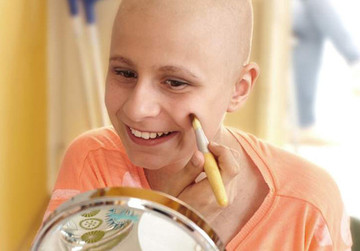 DKMS LIFE
Free make up workshops for girls and woman suffering from cancer
Cancer leaves its marks: hair loss, skin irritations and the loss of eyelashes and eyebrows often are the outside concomitants of a cancer therapy. "look good feel better", the beauty workshop of DKMS LIFE for young cancer patients, helps girls and young women in the age of ten to 21 to see herselves again and not only cancer in the mirror.