Germany's next Topmodel: Top Tickets for the sold-out Finale
Description
Heidi Klum brings the finale of "Germany's next Topmodel" back to Germany! Big, bigger, #GNTM: On May 25, 2017 Heidi Klum, Thomas Hayo and Michael Michalsky will select the winner of the twelfth season of "Germany's next Topmodel – by Heidi Klum" in front of 8,500 fans in the Oberhausen Arena. The great finale will be another season highlight of course – an event GNTM fans can't afford to miss! The show is already sold-out, but we managed to reserve tickets of the best category for you and your companion. So join the bidding and experience up close who will be selected "Germany's next Topmodel" at the end of the evening!
Discover more of our one of a kind auctions all for a good cause!
read more
Additional details
You are bidding on one of this year's TV highlights: Two tickets for the sold-out finale of "Germany's Next Topmodel – by Heidi Klum".
Tickets of the price category PK 1
Date: May 25, 2017
Venue: Oberhausen Arena
Admission from 6:00 pm
Minimum age for admission 6 years
Entrance is permitted to persons from 6 to 16 years only accompanied by a legal guardian
16- to 18-year-olds are allowed to attend the event til midnight without a legal guardian
Dress code: evening dress
Tickets will be personalised and compared with ID card
Ticket resale is prohibited
Travel and overnight accommodation not included
The proceeds from the auction "Germany's next Topmodel: Top Tickets for the sold-out Finale" will be passed on in full, without any deductions, directly to Red Nose Day.
read more
Charity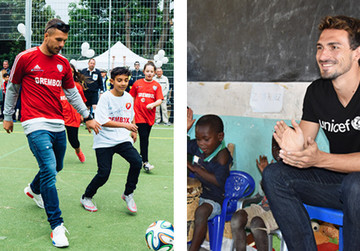 RED NOSE DAY
The Fundraising Campaign of ProSieben for the Support of Charities
This year, the RED NOSE DAY supports two projects, the Lukas Podolski Foundation and UNICEF:
Together with the Lukas Podolski Foundation, the RED NOSE DAY wants to build a football ground in a inner city of Cologne.
Furthermore, the RED NOSE DAY supports the UNICEF campaign #STOP10SECONDS which is campaigning for children in South Sudan.