Signed Real Madrid Jersey Donated by Cristiano Ronaldo, the World's Best Footballer
Description
Cristiano Ronaldo's already a true football legend whose soccer skills will go down in history. So we're very fortunate to be given a chance to auction off a real rarity: a shirt donated and signed by Cristiano Ronaldo when he played for Real Madrid. Don't miss this opportunity to get a real highlight for your jersey collection! Bid now and help a worthy cause at the same time!
Check out our other unique auctions, all for a good cause!
Additional details
You're bidding on a football rarity: Cristiano Ronaldo's signed jersey.
Original Real Madrid home jersey of the season 2017/18
Signed on the shirt number
Includes Cristiano Ronaldo's name and shirt number 7
Brand: adidas
Colour: white with blue elements
Size: M
The entire proceeds of the auction "Signed Real Madrid Jersey Donated by Cristiano Ronaldo, the World's Best Footballer", without any deducted costs, will go straight to the Herman van Veen Foundation.
Charity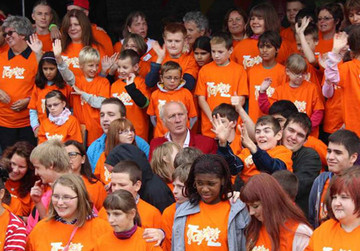 Herman van Veen-Stiftung
Förderung körperlich, geistig oder psychologisch-sozial behinderter Kinder und Jugendlicher.
Stiftungszweck der Herman van Veen-Stiftung ist die Förderung der Bildung und Erziehung mit dem Ziel, Kinder und Jugendliche in aller Welt bei ihrer Entwicklung zu begleiten, damit sie ihre Talente und Begabungen in jeder Hinsicht entfalten und zur Geltung bringen können.