Signed Real Madrid Jersey Donated by Cristiano Ronaldo, the World's Best Footballer
Description
Cristiano Ronaldo's already a true football legend whose soccer skills will go down in history. So we're very fortunate to be given a chance to auction off a real rarity: a shirt donated and signed by Cristiano Ronaldo when he played for Real Madrid. Don't miss this opportunity to get a real highlight for your jersey collection! Bid now and help a worthy cause at the same time!
Check out our other unique auctions, all for a good cause!
Additional details
You're bidding on a football rarity: Cristiano Ronaldo's signed jersey.
Original Real Madrid home jersey of the season 2017/18
Signed on the shirt number
Includes Cristiano Ronaldo's name and shirt number 7
Brand: adidas
Colour: white with blue elements
Size: M
The entire proceeds of the auction "Signed Real Madrid Jersey Donated by Cristiano Ronaldo, the World's Best Footballer", without any deducted costs, will go straight to the Herman van Veen Foundation.
Charity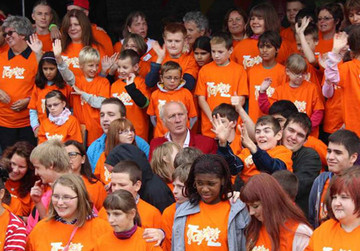 Herman van Veen Foundation
Support for children and youths with physical, mental or social disabilities
The Herman van Veen Foundation Germany is a foundation with the aim to boost projects in the area education. The foundation would like to accompany children and youths in the whole world in their development, so that they can develop their talents in each possible way.