Tennis Legend Roger Federer's Worn and Signed Match Shirt with Certificate of Authenticity
Description
Already today, Roger Federer is a real tennis legend and the most extraordinary player tennis has ever seen. He ended up as tournament winner 100 times and during his career, he has broken all records. Beside his athletic success, he consistently shows his social consciousness. For example by founding the Roger Federer Foundation, enabling better future chances especially for children in South Africa with the help of education. In order to support Bethel, he's showing his heart for the weakest again and he's offering to his fans a rare chance on a personal collectible: only here you can bid for the worn and autographed winner shirt from the Madrid ATP Tour tournament in 2012. As a proof, a certificate of authenticity signed by Roger Federer is attached, as well as an autograph card. For all tennis fans, this auction is a real must-have, so join in bidding for a good cause!
Check out our other unique auctions, all for a good cause!
read more
Additional details
You're bidding on a rare tennis collectible: Roger Federer's worn and signed match polo shirt.
Worn in a match in Madrid in 2012

Original signature flush the right front pocket
Initials "RF" punched on left front pocket
Brand: Nike
Colour: marine blue

Certificate of authenticity signed by Federer, including thanks and a shirt description
Signed autograph card

Includes a Rolex logo
Size: 105 x 148 mm

Includes a Roger Federer Foundation information brochure
The entire proceeds of the auction "Tennis Legend Roger Federer's Worn and Signed Match Shirt with Certificate of Authenticity", without any deducted costs, will go straight to chidlren's hospice Bethel.
read more
Charity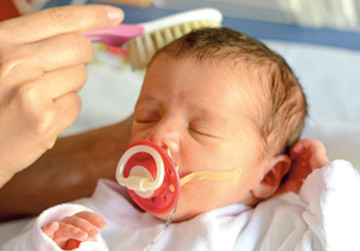 New building of Bethel children's centre
Helping ill children!
In the midst of Bethel, a clinic in which medical competence and modern technique are as important as a family-friendly atmosphere is being built. Under one roof, all fields of paediatrics will be united. There will be many oases for playing and enough space for parents who'd like to care for their children at night as well. The better the small patients feel, the better they will get well again.