Signed by the Superstar Robbie Williams: Pullover from his exclusive MARC O'POLO Anniversary Collection
Description
The fashion brand MARC O'POLO celebrated its 50th anniversary condingly with an exclusive collection which was designed in corporation with the pop music legend Robbie Williams and his wife Ayda. And we were the lucky ones to get one of the much sought-after pullovers! As a highlight, it does not only bear an embroidered signature of Robbie, but also the original handwritten signature of the mega star! Bid here and make a Robbie Williams fan happy with this unique Christmas gift!
Discover here more unique Christmas gifts for a good cause!
read more
Additional details
You bid on something you cannot buy: A hand-signed Logo Sweater by Robbie Williams.
Logo Sweater made of soft Doubleface Wool from the exclusive anniversary collection of MARC O'POLO in corporation with Robbie & Ayda Williams
Original handwritten signature on the chest
Embroidered signature on the sleeve
Size: XL
Colour: white
The proceeds of the auction "Signed by the Superstar Robbie Williams: Pullover from his exclusive MARC O'POLO Anniversary Collectio" go directly and without any deductions to the Nicolaidis YoungWings Foundation.
read more
Charity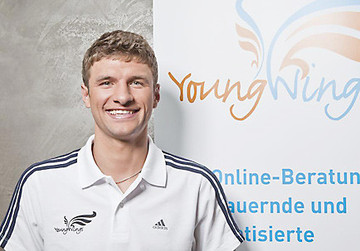 YoungWings
YoungWings – Aid network for grieving and traumatised children and adolecents that have experienced a loss
The online counselling organization YoungWings is there for children that have lost a close family member. They are there to give empathetic advice to help the grieving cope with the loss.