Straight from the Field: Thomas Müller's worn adidas Football Shoes
Description
Thomas Müller is one of Germany's most popular and most successful football players. He won the German championship several times, is world champion and one of the symbols of German football. As in the years before, he donates unique, personal items in order to support his heartfelt project, the Nicolaidis YoungWings Foundation. You have now the unique chance to get here his worn and personalized adidas football shoes! Bid here and make a fan of Thomas Müller happy with this special Christmas gift!
Discover here more unique Christmas gifts for a good cause!
read more
Additional details
You bid on personal football collectibles: A pair of worn and signed football shoes of Thomas Müller.
With original signature
Personalized with "Lisa 25" and the Bavarian flag
Brand: adidas
Visible signs of wear
Size: UK 9,5
Colour: blue/pink
The proceeds of the auction "Straight from the Field: Thomas Müller's worn adidas Football Shoes" go directly and without any deductions to the Nicolaidis YoungWings Foundation.
read more
Charity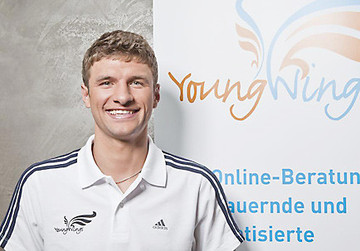 YoungWings
YoungWings – Aid network for grieving and traumatised children and adolecents that have experienced a loss
The online counselling organization YoungWings is there for children that have lost a close family member. They are there to give empathetic advice to help the grieving cope with the loss.