By the French Football Star Antoine Griezmann: His worn National Team Jersey with Signature
Description
Antoine Griezmann is the star of the French national team. For the big charity Christmas auction of the Nicolaidis YoungWings Foundation, Thomas Müller had the chance to win the French striker, who now takes part with a real collectible's item: he donates one of his worn "Équipe Tricolore" jerseys! Additionally, he signed the much sought-after item. Bid now and make a football fan happy with this special Christmas gift!
Discover here more unique Christmas gifts for a good cause!
read more
Additional details
You bid on a much sought-after collectible's item: a jersey of the French national team worn by Antoine Griezmann.
With the original signature of the French striker on the back
Matchworn
Flocked with Griezmann and his back number 7
Brand: Nike
Colour: Blue
Size: S
The proceeds of the auction "By the French Football Star Antoine Griezmann: His worn National Team Jersey with Signature" go directly and without any deductions to the Nicolaidis YoungWings Foundation.
read more
Charity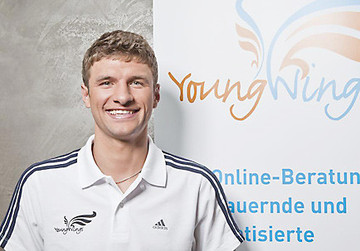 YoungWings
YoungWings – Aid network for grieving and traumatised children and adolecents that have experienced a loss
The online counselling organization YoungWings is there for children that have lost a close family member. They are there to give empathetic advice to help the grieving cope with the loss.