Double World Cup Winner Dominik Paris is Auctioning Off his Signed uvex Ski Helmet
Description
Currently, Dominik Paris is one of the most successful ski racers. During the World Cup in Kvitfjell, he won the titles both in downhill as well as in Super-G. And in the end of winter sports season, we're now having the ultimate chance to auction off an absolutely amazing collectible: for his fans, Dominik Paris signed an uvex racing helmet. With the entire proceeds, he's supporting the Rainer Winter Foundation. A great auction for a good cause!
Check out our other unique auctions, all for a good cause!
read more
Additional details
You're bidding on a winter sports collectible: Dominik Paris's autographed racing helmet.
Signed
Brand: uvex
Colour: white
The entire proceeds of the auction "Double World Cup Winner Dominik Paris is Auctioning Off his Signed uvex Ski Helmet", without any deducted costs, will go straight to Rainer Winter Foundation.
read more
Charity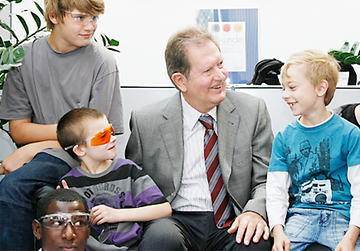 St. Michael Children's Home in Fuerth
Rainer Winter Foundation - Donations for the children's home

The altruistic goal of Rainer Winter Foundation, Fuerth, Germany, is to provide financial support, with a minimum of bureaucracy, for children, who are in need, sick or disabled in Germany and all over the world for over 30 years. The foundations' and founders' main focus has been on socially disadvanted children in Central Franconia, especially e.g. St. Michaels' Children's Home in Fuerth.