JaM Guitar - a joint Production by Michael Spalt and Jacco Stuitje
Description
Einzigartige Musikauktionen zu Gunsten der Ukraine: In Kooperation mit den deutschen Musikmagazinen "Gitarre&Bass" und "GrandGtrs" hat der Musikinstrumentenhersteller Nik Huber Guitars die große Spendenaktion "Gear for Hope" zur Unterstützung ausgewählter Ukraine-Projekte gestartet. Es werden von Stars signierte Gitarren und hochwertiges Equipment versteigert - und hier können Sie sich etwas ganz Besonderes sichern: Die JaM Gitarre ist ein Instrument, das im Februar 2017 in Wien und Groningen von den Gitarrenbauern Michael Spalt & Jacco Stuitje hergestellt wurde und die Idee für die Community Builds der European Guitar Builders (EGB) initiierte. "Entstanden ist JaM aus der Idee, in Zusammenarbeit mit einem anderen Gitarrenbauer einen "Schnellbau" zu machen. Ich musste für EGB Meetings nach Wien reisen. Diesen Februar (2017) bestand Michael darauf, dass wir uns ein paar Stunden von den Meetings frei nehmen und zusammen eine Gitarre bauen würden. In nur wenigen Stunden zeigte und lehrte Michael mir seine Herangehensweise an den Gitarrenbau; Natürlich und organisch, nicht zu viel planen und nachdenken, sondern sich sozusagen durch das Holz tasten." Jacco Stuitje, September 2017. Bieten Sie mit!
Entdecken Sie bei uns auch weitere einzigartige Auktionen für den guten Zweck!
Unique music auctions in aid of Ukraine: In cooperation with the German music magazines "Gitarre&Bass" and "GrandGtrs", the musical instrument manufacturer Nik Huber Guitars has launched the major fundraising campaign "Gear for Hope" to support selected Ukraine projects. Guitars signed by stars and high-quality equipment will be auctioned off - and here you can secure something very special: The JaM guitar is an instrument made in Vienna and Groningen in February 2017 by guitar builders Michael Spalt & Jacco Stuitje, who initiated the idea for the European Guitar Builders (EGB) Community Builds. "JaM was born out of the idea to do a "quick build" in collaboration with another guitar builder. I had to travel to Vienna for EGB meetings. This February (2017) Michael insisted that we take a few hours off from meetings and build a guitar together. In just a few hours, Michael showed and taught me his approach to guitar building; Natural and organic, not planning and thinking too much, but feeling your way through the wood, so to speak." Jacco Stuitje, September 2017.
read more
Additional details
Sie bieten auf etwas ganz Besonderes: Eine hangefertigte JaM Gitarre
Handgefertigtes Einzelstück
hergestellt von Michael Spalt (Spalt Instruments) und Jacco Stuitje.
kommt mit Zertifikat 'Local Wood Challenge' als Bestätigung, dass die Gitarre mit lokalen Hölzern gebaut wurde.
Den Erlös der Auktion "Gear for Hope" leiten wir direkt, ohne Abzug von Kosten, an die Ukraine-Nothilfe von "Ärzte ohne Grenzen", "Uno Flüchtlingshilfe", "Deutsches Rotes Kreuz" und "Aktion Deutschland hilft" weiter.
You are bidding on something very special: The JaM guitar was made together by the well-known guitar builders Michael Spalt (Spalt Instruments) and Jacco Stuitje.
Handmade unique piece
Comes with 'Local Wood Challenge' certificate confirming that the guitar was built with local woods.
The proceeds of the auction will be donated directly, without any deduction of costs, in equal parts to the Ukraine emergency aid of Doctors Without Borders, UNO refugees help, German Red Cross and Aktion Deutschland hilft.
read more
Charity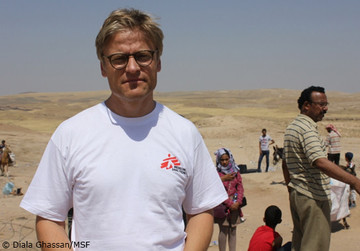 Ärzte ohne Grenzen
Medizinische Nothilfe in Krisengebieten
Als medizinische Nothilfeorganisation ist Ärzte ohne Grenzen weltweit in vielen Regionen und Kontexten im Einsatz und behandelt unterschiedlichste Krankheiten. Zehntausende humanitäre Helfer und Helferinnen sind in über 70 Ländern vor Ort und engagieren sich auch langfristig dafür, die Notlagen in den Krisengebieten zu verbessern. Aktuell ist die Organisation verstärkt im Kampf gegen das Coronavirus im Einsatz.