Football god Lionel Messi signed a Barcelona jersey for you
Description
On 16 October 2004, a new star rose in the football sky: Lionel Messi. Since his professional debut in the city derby against Espanyol, he became legendary with his FC Barcelona. Lionel Messi is the measure of all things in football and for Christmas, we can now auction off a sensational gift for his fans: an originally autographed Barcelona jersey. The perfect surprise - join in bidding!
Check out our other unique auctions, all for a good cause!
read more
Additional details
You're bidding on a sought-after football collectible: a Barcelona jersey signed by Lionel Messi.
Original signature on the back
With Messi 10 printing
Jersey from season 2018/19
Brand: Nike
Colour: red/yellow
The entire proceeds of the auction "Football god Lionel Messi signed a Barcelona jersey for you", without any deducted costs, will go straight to Deutscher Fußball Botschafter e.V.
read more
Charity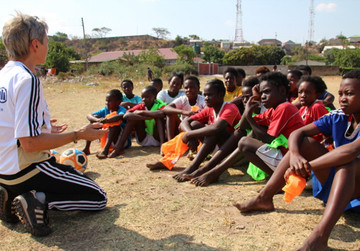 Deutscher Fußball Botschafter e.V.
Fußball kann mehr!
Der Verein Deutscher Fußball Botschafter e.V. hat sich zum Ziel gesetzt, über das Engagement deutscher Fußballtrainer/innen und -spieler/innen im Ausland, das Ansehen von Deutschland zu stärken und nachhaltig sozial-gesellschaftliche Projekte zu fördern.