HORIZONT e.V.
Even in a rich city like Munich, there are mothers ending up on the street with their children, due to diverse reasons. In this situation, it is barely possible for the affected people to regain ground in society. Here, the initiative HORIZONT joins and offers new perspectives to homeless children and their mothers.

Sustainable support for homeless children and their mothers
At the HORIZONT house in Munich, the affected children and their mothers get a safe temporary home and holistic care. With targeted help and loveful care, the staff helps to deal with acute crisises and to improve the whole life situation for a long time. The aim is to make a new start in a self dependent life possible for the mothers and their children. More than 2,000 people have already been supported by HORIZONT and have found their place in society again.
Das Projekt der HORIZONT e.V.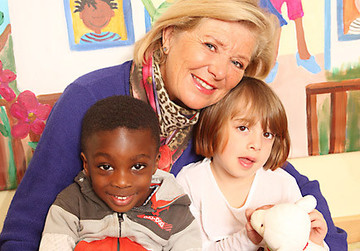 HORIZONT house
HORIZONT e.V.: sustainable help for homeless children and mothers
Strokes of fate and horrible circumstances often lead to the fact that mothers and their children suddenly end up on the street. HORIZONT e.V. helps homeless mothers and their children quickly and unbureaucratically. In the HORIZONT house, mothers and children find peace and refuge.