Back to the charity
Kinderhilfe Organtransplantation (KiO) - Sportler für Organspende e.V.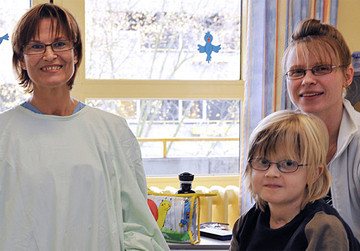 KiO ist im Bereich der Kindertransplantation das einzige übergreifende deutsche Hilfswerk. Mehr als 100 Olympiasieger, Welt- und Europameister gründeten die Organisation, um betroffenen Kindern und deren Familien zu helfen. Die KiO unterstützt die Familien finanziell sowie mit Freizeit-Programmen, die transplantierten Kindern neues Selbstvertrauen schenken.
Der KiO-Hilfsfonds sorgt für schnelle Unterstützung in Notfällen. Oft bedroht die Erkrankung die wirtschaftliche Existenz der Eltern. Besuchsfahrten oder Übernachtungen in Kliniknähe werden häufig nicht übernommen. Mehrbelastungen und Verdienstausfälle können Familien in finanzielle Not bringen. Ziel von KiO ist es, die von einer Organtransplantation betroffenen Kinder und ihre Familien in besonderen Notlagen unbürokratisch zu unterstützen.
Außerdem ermöglicht KiO Erlebnispädagogik, wie z.B. Familien-Freizeiten und Beratung für die betroffenen Familien.