Back to the charity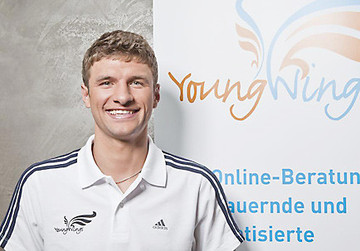 The sudden death of a mother, father, sibling or other close relative is a shocking, life changing experience that is difficult to recover from. Many suffer from a state of shock that leaves them speechless and numb, with feelings of fear and hopelessness. Without reliable, professional help it is difficult to find a way out of these emotions.
The online counselling www.youngwings.de ,for grieving, traumatised children and adolescents, that have experienced a loss, offers the affected children advice and support. They not only anonymously counsel young people individually based on their own personal experience but also act as a mediator - when needed- to get the children the support they need through other aid agencies.
Youngwings is there to help children between the ages of 12 and 21, that have lost a close member of their family and are grieving or that have been traumatised due to a loss, independent of when the death was or the cause. The goal of YoungWings counselling, created by the Nicolaidis Foundation, is to work together to find possible solutions to aid the affected children and help them cope with their loss.
The team is made up of full and part time counsellors, all with a job background in education, social work, psychology or therapy. The YoungWings, whose ambassador is the professional footballer for FC Bayern Thomas Müller, gives children and adolescents empathetic advice during the darkest hour of their young lives, to help them cope with their grief and find the joy in life again.
Furthermore YoungWings gives the grieving children, in Germany over a million, the option of communicating with other peers that have had similar experiences and also help to find support in the area in which they live, through an online database.