Back to the charity
UNICEF emergency aid in the Sahel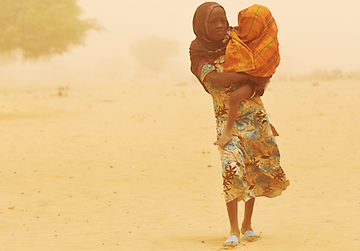 It is a silent catastrophe: the malnutrition in the Sahel. In order to prevent the people from another famine like in Somalia in 2011, UNICEF reinforces its help for the children in the Sahel and is appealing for donations. According to estimations, more than one million children in eight countries are threatened by severe malnutrition in the next months. Because of droughts, poor harvests, high food costs and extreme poverty, many families cannot feed themselves with enough food.
Yet in "normal" periods, many children in the Sahel are ill-nourished and in a bad health condition. Burkina Faso, Mali and Tchad belong to the ten countries with the highest child mortality in the world. One out of five children does not reach the age of five. And annually, around 1.9 million children under the age of five die and a third of these cases of death are due to chronic or acute malnutrition.
Seven out of eight Sahel states already proclaimed a state of emergency because of the imminent famine and asked the international community for help. The uncertainty of food has increased for many people and will still increase in the next months. And even if there is food available on the markets, poor families often cannot afford it.
Already today, UNICEF helps to provide food, drugs and clear water for about 700,000 children in the region. UNICEF now expands this help massively and provides big amounts of nutritious peanut paste, special milk and other reliefs to the countries.
All proceeds from the following auction go 100% to this Charity project: