Back to the charity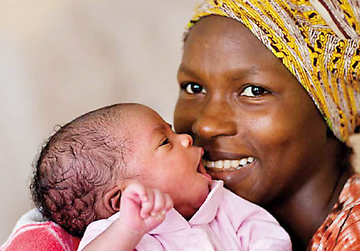 The birth of a child internationally means the joy about a new life. With their love and care, the parents want to give a good start into life for the small human, being born absolutely helpless. But in many developing countries, each pregnancy is a deadly risk for mother and child: 6.9 millions of children worldwide die before their 5th birthday - 40 percent of them do not even reach an age of a month. About 287,000 do not survive the birth of their child each year. With its annual Christmas campaign "Time to share", UNICEF appeals for donations for the surviving of newborns and their mothers.
With the campaign, UNICEF wants to support Sierra Leone, Afghanistan, the Central African Republic, Burundi and South Sudan - five countries with a particularly high newborn mortality. With your help, 150,000 babies shall get a healthy start into life and their mothers shall get the care they need before, during and after giving birth. Most newborns and their mothers in the project countries die of avoidable reasons. Especially in the rural areas, women give birth at home - often in insanitary circumstances and without any professional care.
Only few women have access to an adequate pregnancy care. The health institutions are too far away and poorly equipped. Educated midwives, medical tools and drugs are missing. In case of complications in pregnancy or delivery, help often comes too late for the mother and child. And after the birth as well, there are big challenges: only few mothers know how to feed their newborn and how to protect it from diseases.
All proceeds from the following auction go 100% to this Charity project: