Back to the charity
Leukaemia must become curable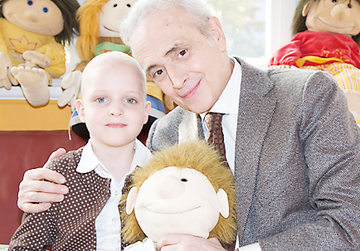 Every year, around 2,000 children and youths in Germany come down with cancer, around 700 of them with leukaemia. About 80 per cent of these children survive today - also because of the German José Carreras Leukaemia Foundation. With this foundation and others in Spain, the USA and Switzerland, José Carreras campaigns for his aim: "Leukaemia must become curable. Always and for everyone."
In 1995, the star tenor founded the German José Carreras Leukaemia Foundation, after having suffered from leukaemia in 1987. The foundation supports important structural and research projects, as well as social aid offers for leukaemia projects.
The sponsorship of research projects in cooperation with university hospitals all over Germany resulted for example in new therapy approaches. Furthermore, the José Carreras Leukaemia Foundation supports psychosocial projects, assigns research fellowships to young scientists and supports the scientific exchance by offering workshops and congresses.
For that people suffering from leukaemia get the ideal therapy and chance to cure, the foundation also supports the construction of research and therapy institutions, as for example transplantation units, rehabilitation centres, day clinics and research laboratories. These structural measures conduce to an improvement of the medical infrastructure and thereby the cure of leukaemia patients.
With different offers, the José Carreras Leukaemia Foundation contributes to the alleviation of the difficult therapy time for patients and their families. For example, the first "Carreras Apartment" in Munich makes it possible for relatives to be near the patient, even for a longer period. Furthermore, parents' initiatives and self-help groups all over the country are supported.
Last but not least, smaller projects in hospitals are supported. For example, important equipment or consumables the hospitals do not have the financial means for, can be ordered.
All proceeds from the following auction go 100% to this Charity project: