Back to the charity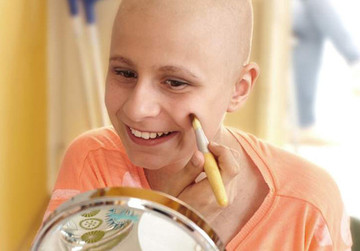 To help cancer patients during therapy to help themselves in dealing with their outward changes, the DKMS LIFE started its patient programme "look good feel better". In free make-up workshops for cancer patients, affected girls and women get professional tips for face care, make-up and the subject of headdresses.
Especially for girls and young women in adolescence, and thus in a decisive phase of their personality development, cancer therapy can be a very hard time. They do not only have to deal with the disease, but also with their appearance. Hair loss, the loss of lashes and eyebrows and skin irritations are the most frequent side effects of a cancer therapy. These outward changes often weaken the self-confidence of the patients. Furthermore, the youths do neither affiliate themselves with the projects for adults nor with those for children. Often, this leads to isolation.
In order to cater especially the needs and wishes of the youths, the DKMS LIFE offers make-up workshops for girls and young women in the age of ten to 21 years since 2009: "look good feel better - the beauty workshop for young cancer patients" is a two-hour programme where volunteering make-up experts show the girls how to cover the outward changes of cancer therapy. But the workshop is more than just cosmetics and make-up - it is sort of a therapy and self-help. To be together with others jauntily, to forget the disease for some time and to win new courage to face life is what counts.
The DKMS LIFE make-up workshops are free for the patients, not medical and product neutral. A maximum of ten youths participate in a workshop.
All proceeds from the following auction go 100% to this Charity project: