Herzenswünsche e.V.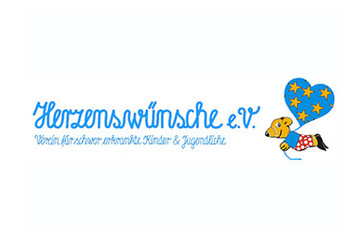 Herzenswünsche e.V. is an association working all over Germany, fulfilling dreams for seriously ill children and youths. About 70 voluntary and three full-time employees engage in order to come in close contact to parents, doctors, therapists and, of course, children. In this way, they would like to find out which wish can give new courage and new hope to a child. The fulfillment of a long nourished dream contributes significantly in order to manage the daily life at the clinic better. Whether it is a meeting with celebrities, a stay at a pony farm, a hot-air balloon ride or a nice birthday party - each wish will be fulfilled individually and with lots of engagement.
Das Projekt der Herzenswünsche e.V.
Herzenswünsche e.V.
Herzenswünsche fulfils dreams and wishes for seriously ill children
In 1989, Wera Röttgering's best friend came down with cancer. In order to encourage her and give her hope for the battle against the disease, the entrepreneur proposed to start an initiative helping people in similar situations.