Back to the charity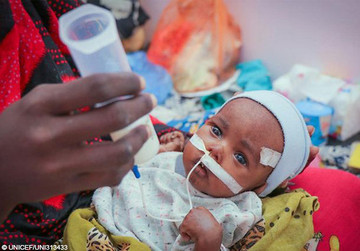 Im Jemen herrscht die derzeit größte humanitäre Krise der Welt. Nach sechs Jahren Bürgerkrieg sind dort laut UNICEF schätzungsweise 2,3 Millionen Kinder unter fünf Jahren von akuter Mangelernährung bedroht – fast 400.000 von ihnen kämpfen ums Überleben. Die Corona-Pandemie verschärft die Situation zusätzlich.
Die Wirtschaft liegt in Trümmern, grundlegende öffentliche Dienstleistungen, Schulen sowie die Trinkwasser- und Sanitärversorgung, sind vielerorts zusammengebrochen. Nur die Hälfte der Gesundheitseinrichtungen ist noch funktionsfähig.
UNICEF leistet umfassende Nothilfe im Jemen. So werden zum Beispiel Kinder mit therapeutischer Spezialnahrung und Vitaminen versorgt. Im März brachte UNICEF die ersten Covid-19-Impfdosen in das arabische Land: Rund 360.000 Impfdosen, zusammen mit 13.000 Sicherheitsboxen und über einer Million Spritzen erreichten den Jemen. Die Lieferung ist der erste Teil von 1,9 Millionen Impfdosen, die der Jemen im Laufe dieses Jahres dank der globalen Covax-Initiative erhalten wird.