Den King of Late Night treffen: Meet&Greet mit Harald Schmidt
Description
Exklusiv auf Sky begrüßt der König der Late Night, Harald Schmidt, seine Gäste dreimal pro Woche im legendären Studio 449 in Köln. Und auch Kultmusiker Helmut Zerlett und Band sind wie immer mit dabei. Wöchentlich wechselnde Sidekicks, wie Pierre M. Krause , Nathalie Licard und Olli Dittrich, führen gemeinsam mit Harald Schmidt durch die Sendung. Für Fans der Show versteigern wir gemeinsam mit Sky etwas ganz Besonderes: Treffen Sie Harald Schmidt im Rahmen seiner Show! Außerdem können Sie einen Blick hinter die Kulissen werfen, bei einem Rundgang die Redaktion kennenlernen und die Proben mit verfolgen. Danach erleben Sie Harald Schmidt in Höchstform live bei seiner Show.
Entdecken Sie unsere weiteren einzigartigen Auktionen für den guten Zweck!
read more
Additional details
Sie bieten für etwas, das Sie nicht kaufen können: Sie und Ihre Begleitung sind zu Gast bei der "Harald Schmidt Show" und treffen dort den King of Late Night persönlich. Harald Schmidt nimmt sich dabei Zeit für ein kurzes Treffen, bei dem Sie die Möglichkeit haben, Erinnerungsfotos zu machen und sich Autogramme zu holen. Außerdem gewährt Ihnen die Produktionsfirma einen Blick hinter die Kulissen der Show. Bei einem Rundgang durch die Studios und Produktionsräume lernen Sie die Redaktion kennen. Danach sind Sie direkt bei den Proben und erleben anschließend die Aufzeichnung der Show. Termin in Abstimmung mit Sky und Bonito TV. Eigene Anreise. Ohne Übernachtung. Diese Versteigerung ist Bestandteil unserer Sky Charity-Weihnachtsauktionen. Den Auktionserlös leiten wir direkt an die Sky Stiftung weiter. Sport und Bewegung sind wichtige Bausteine für eine gesunde geistige und kognitive Entwicklung bei Kindern und Jugendlichen. Die Sky Stiftung setzt sich dafür ein, dass junge Menschen aus allen sozialen Schichten die Möglichkeit haben Sport zu treiben, denn "Jedes Kind hat das Recht auf Bewegung".
read more
Charity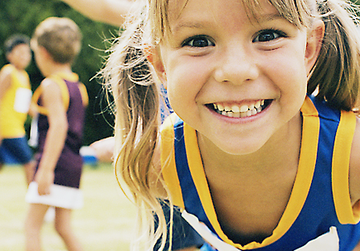 Sky Foundation: We make Children fit for Life
We make children fit for life
Not only in developing countries, but also in Germany, many children live in poverty. This poverty is displayed by a lack of material property or a lack of a balanced diet, but also a lack of exercise. Often, children in socially deprived families or children with disabilities are not having any access to sports offers. Therefore, Sky supports projects enabling all children to take part in sports.