Back to the charity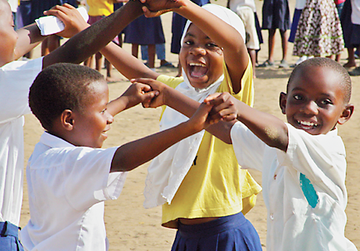 Right To Play was founded in 2000 by Johann Olav Koss, the four times Olympics winner in speed-skating. The international organisation transmits essential knowledge to children in a playful way and thus boosts their development, education, health and the peace in their communities.
In especially developped play and sports programmes, the children internalise important skills necessary to confront challenges, for example social competences like respect and fairplay, the ability to protect themselves from dangerous diseases like HIV/AIDS or malaria, to close education gaps and to boost the peaceful living together.
Right To Play currently reaches one million children and youths with weekly play and sports activities with 14,400 volunteering coaches. This happens in about 20 countries in Africa, Asia, the Middle East as well as Northern and Latin America. Half of those children are girls.
Athletes from more than 40 countries support Right To Play as ambassadors. These athletes inspire the children, serve as idols for a healthy way of life and increase the conscience and the will to donate for Right To Play projects. Right To Play are for example Haile Gebrselassie (marathon runner), Severin Freund (ski-jumper), Anna Schaffelhuber (monoskier), Anni Friesinger (speed-skater), Wayne Gretzky (ice hockey player) and Alexander Ovechkin (ice hockey player).
All proceeds from the following auction go 100% to this Charity project: