Back to the charity
Kinderkrebsklinik Freiburg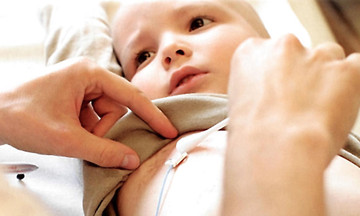 The diagnosis of cancer pulls the rug out from under many families. Concerned people experience contrast baths between agony and hope – and nothing will be as it was before. For more than three decades, the members of the booster club in Freiburg apply for the needs of children suffering from cancer in the University Clinic in Freiburg.
The booster club "Helfen hilft" has contributed to today's implicitness of a highly competent patient-centred care and high-class research at the children's oncology in Freiburg. Thanks to this, chances of cure for children and teenagers suffering from cancer have been clearly improved during the last 30 years.
Many things have not been predictible in the first years after the foundation. For example, the new building for the children's oncology, Haus Feldberg, soon had to be expanded. The parents' house the booster club maintains today was soon overstrained and an extension of 19 rooms and 28 beds became necessary. Today, 41 rooms and 73 beds are available for concerned families. Parents can stay in the direct surroundings of their sick child and are able to be there for them on call.
All proceeds from the following auction go 100% to this Charity project: