Back to the charity
Deutscher Kinderschutzbund e.V. – Ortsverband Bad Kreuznach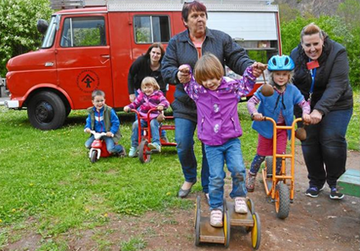 Children's café and "Spielmobil Knallfrosch"
Lobby for all children
This is why the Kinderschutzbund opens its children's café daily for boys and girls from the age of 6 to 12 - with and without a migration background and from different social orders.
Play and learn together - with one another and from one another.
Those who need help with their homework or in special school subjects get it!
Girls and boys naturally have the same rights. Those and other rules are communicated biweekly in the children's café assemblies.
The parents meet regularly as well.
Go on trips together.
The "Spielmobil" regularly comes to playgrounds in the city areas.