Back to the charity
Bola Pra Frente Rio de Janeiro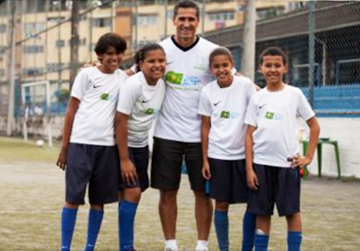 "BOLA PRA FRENTE" is a sporting and educational centre in Rio de Janeiro's quarter Guadalupe. It is one of the biggest social and sporting projects in the capital city of the federal state. The Brazilian football champion Jorginho openend the institute "BOLA PRA FRENTE" in 2000, together with his team colleague Bebeto.
Children and youths in the age from six to seventeen years get professional, pedagogical support by sport experts, sport teachers, pschologists and social workers. About 950 young people get together in "BOLA PRA FRENTE". They take part in free classes and get the possibility to do sporting activities or job oriented projects. Furthermore, the institute offers different courses in languages, maths, health, arts, theatre, music, dance and computing.
Regularly, famous athletes visit the "BOLA PRA FRENTE" institution in order to motivate the children and youths and in order to set a good example.