Back to the charity
ARCHEMED - Doctors for children in need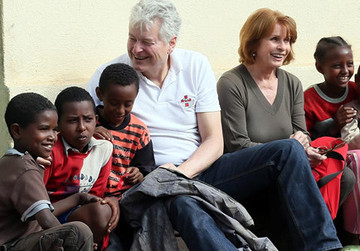 Child heart surgery, orthopaedics, oncology, obstetrics or neonatology: ARCHEMED projects cover a large medical spectre in order to provide medical care for as many children and families as possible in a poor country like Eritrea.
In the network of highly qualified doctors, nurses, craftsmen and many helpers, there are neither a big administration nor employees nor hierachies, but lots of people with heart, endurance, compassion and courage, achieving something extraordinary in their free time. After all, the ARCHEMED projects are so efficient and successful due to the solidarity to one another, the will to humanitarian help and the unique working atmosphere.
Besides the setting of numerous medical projects, it is important to integrate and to train the Eritrean doctors and nurses so that as many tasks and functions as possible can be handed over to them. Because of this, ARCHEMED regularly sends guest lecturers, medical specialists and professors for the further training in Eritrea.
By supporting an orphanage and a school, ARCHEMED does a further step besides the medical care to offer a future perspective to children in Eritrea.
All proceeds from the following auction go 100% to this Charity project: