Back to the charity
Christoph Metzelder Foundation: fit for future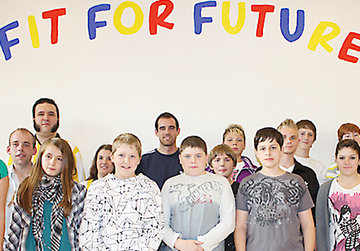 "As an athlete, I meet young people almost daily. Especially, the time in the Ruhr area, where the structural change left traces on many people, has marked me. It makes me sad that children and youths are disadvantages just because of their social origin." Christoph Metzelder does not shut his eyes to block reality. "It is a big task of our society to give every single person the appreciation and the support he needs for a good start in (vocational) life" he emphasises.
Christoph Metzelder has chosen this big task and founded his Christoph Metzelder Foundation in the end of 2006. It accompanies children and youths on their scholar and personal path of life and boosts for the same chances for the start in job life for all children and youths. hat sich dieser großen Aufgabe angenommen und Ende 2006 die Christoph Metzelder Stiftung gegründet, die Kinder und Jugendliche auf ihrem schulischen und persönlichen Lebensweg begleitet. Sie setzt sich dafür ein, dass Kinder und Jugendliche gleiche Ausgangschancen für den Start ins Berufsleben erhalten. The focus of the boost lies on projects of children and youth welfare in the areas of education and migration. Christoph Metzelder explains that in all booster areas, the individual development of young people takes the centre stage.
"fit for future", a homework assistance and learning help for grades 1 to 10 is offered in cooperation with the youth centre Schultenstraße in Hamm. The Christoph Metzelder Foundation was not only involved in the development of the project, but also funds 100% of it. Since January 2010, paedagogical staff supports 20 children and youths three times a week with their homework and learn with them for tests. Besides the consolidation and practice of what is learned at school, another focus of the offer is the boost of social skills like collaboration, thoughtfulness and helpfulness. For the older youths, there exists the possibility to prepare job applications and interviews.
"Not only the demand after more positions, but also the scholar successes of the girls and boys show, that the need of such a boost is big" Metzelder recapitulates. The Christoph Metzelder Foundation supports other projects in the Ruhr area as well, as for example the Freie Schule Essen-Katernberg, the Don Bosco-Club Essen-Borbeck, the youth club of the Amigonian Friars in Gelsenkirchen-Schalke, and other projects supporting socially deprived children and youths on their path of life and education.